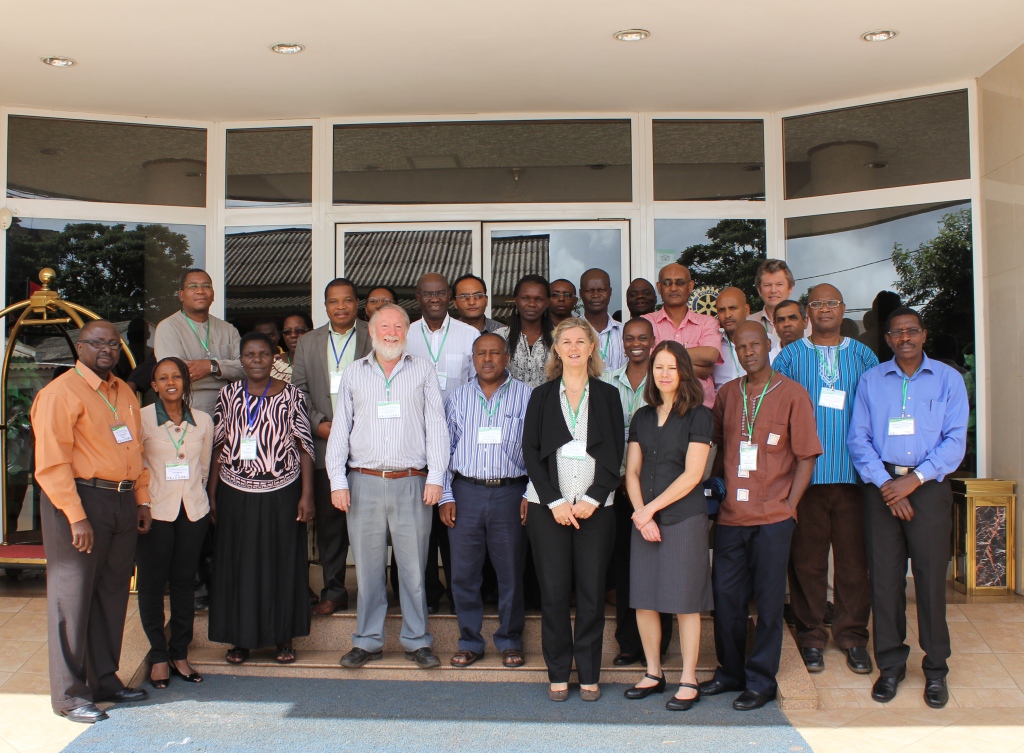 It was interesting to listen to the researchers from different organisations debating about the issues they were facing conducting their surveys in households and plots in the villages in five African countries!
We were in Chimoio Mozambique at the annual meeting for the "Adoption Pathways" project, funded by the AIFSC, managed by ACIAR and implemented by CIMMYT, from the 21st to the 22nd of March 2013. Project partners included members from Kenya, Ethiopia, Malawi, Mozambique and Tanzania.
This project is about identifying the barriers and incentives for farmers in adopting certain agricultural technologies over others. Further, it takes a gender lens to identify and ground-truth what women want to grow for their families' income and nutrition.
According to Dr Menale Kassie, the project leader with CIMMYT, "Adoption of sustainable agricultural practices (SAPs) and the effects of adoption have received considerable attention from development economists. Prior research [however] focuses on specific practices; less information is available on simultaneous adoption of multiple and interdependent SAPs and their impacts."
What he means is that this project has come up with some interesting results that show that one technology or innovation on its own will not work for small-scale farmers and we have to look at providing them with a package of technologies or innovations that enable them to move from subsistence to income-earning farmers – we need to provide methods of maize and bean rotation; better seeds; with reduced tilling all together as one package. Further, women will tend to adopt farming practices that provide better nutrition for their families.
Key among the latest research results is the lack of holistic studies on the barriers and incentives to the adoption of technologies for maize and beans. In Ethiopia, the project team recognised that breeders were not considering the importance of maize stock for livestock feed; and adoption studies previously focused on single commodities or single technologies. The project is conducting its activities in Oromia, Bofa, SNNP and Hawassa, Zuria. Interestingly, maize was the most important staple crop contributing a significant share to household food consumption and income by both women and men participants however, priorities on other crops differed considerably by gender. Further, men have relatively accurate information on crop production (input use, varietal performance, time of operations, etc.), while women have relatively more accurate information on household food security issues. It was also found that all production and investment decisions are jointly made based on consensus and both genders co-own the land. Interestingly, livestock husbandry in all sites is conducted mainly by women especially since open grazing gave way to restricted and stall-feeding mainly due to the conversion of communal grazing fields into individual cultivated lands.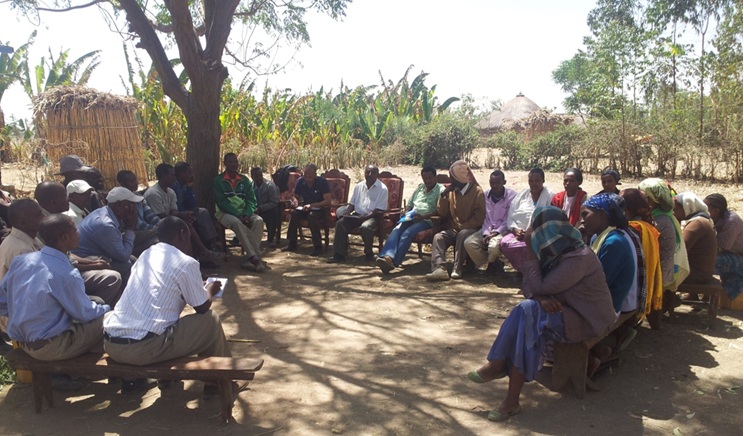 Results from the other countries were however different with Kenya reporting decision processes that were distinctly done by one gender in specific sites. The data is reproduced below and shows how only one area in Siaya is the decision making process almost similar to that found in the sites in Ethiopia. In fact in Bungoma, the decisions are 'owned' by specific genders and none are made jointly which led the AIFSC director, Mellissa Wood to question whether there was an issue of lack of trust.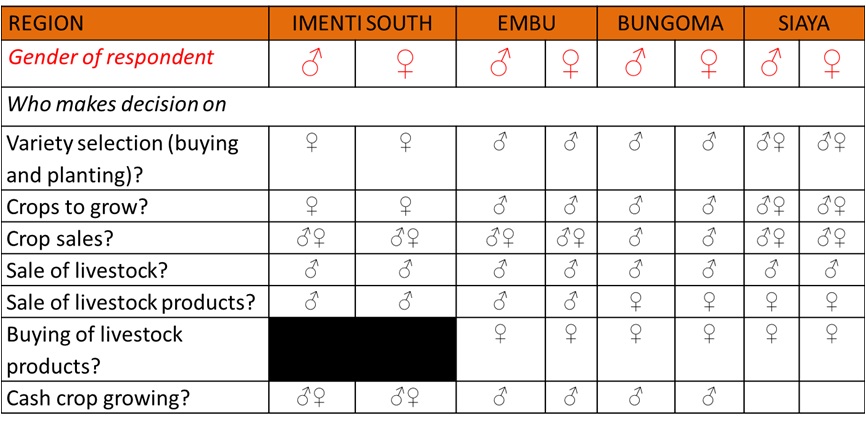 These research results were recently published in the Ecological Economics Journal in May 2013. But it has not been easy getting to this point. Dr Chilot Yigra, the country coordinator for Ethiopia was explaining to project partners how difficult it was to collect data on the time farmers spend on weeding, ploughing, threshing etc. The researchers have to conduct their surveys without causing farmer fatigue and this has not been easy because farmers are extremely busy and unless they can see an incentive to participating in surveys they will tend not spend too much time with the interviewers.
The data from this project will feed into the technology-intensive research being done by the Sustainable Intensification of Maize-Legume cropping systems for food security in East and Southern Africa (SIMLESA) team. This will help the project better target their technologies to suit the needs of the small scale farmers in the countries where the project is active.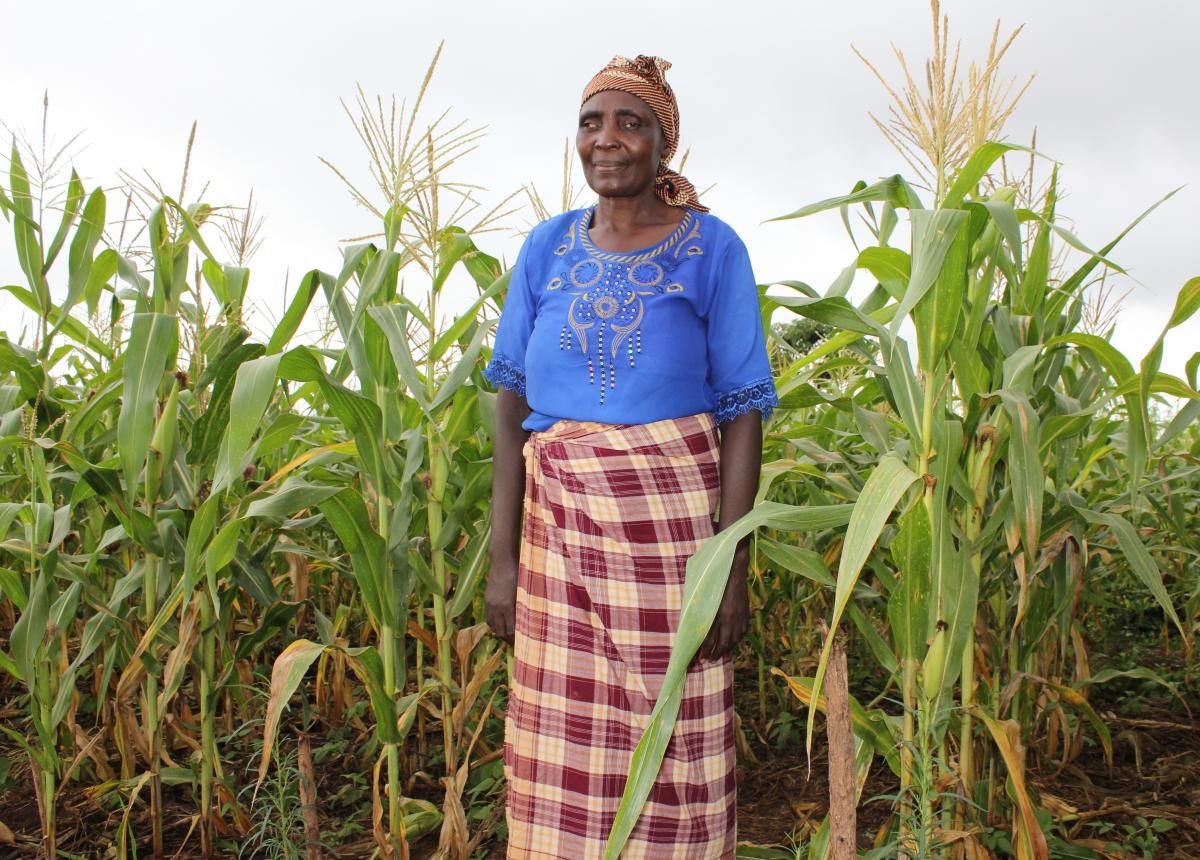 This is the kind of research that goes full-circle with identifying what works for farmers, developing it and asking the farmers to test the new breeds of seeds in combination with new practices, then going back to the labs to improve the seeds where appropriate.