Food Security in Africa: Bridging Research and Practice
Watch the filmed sessions from the Conference and download presentations.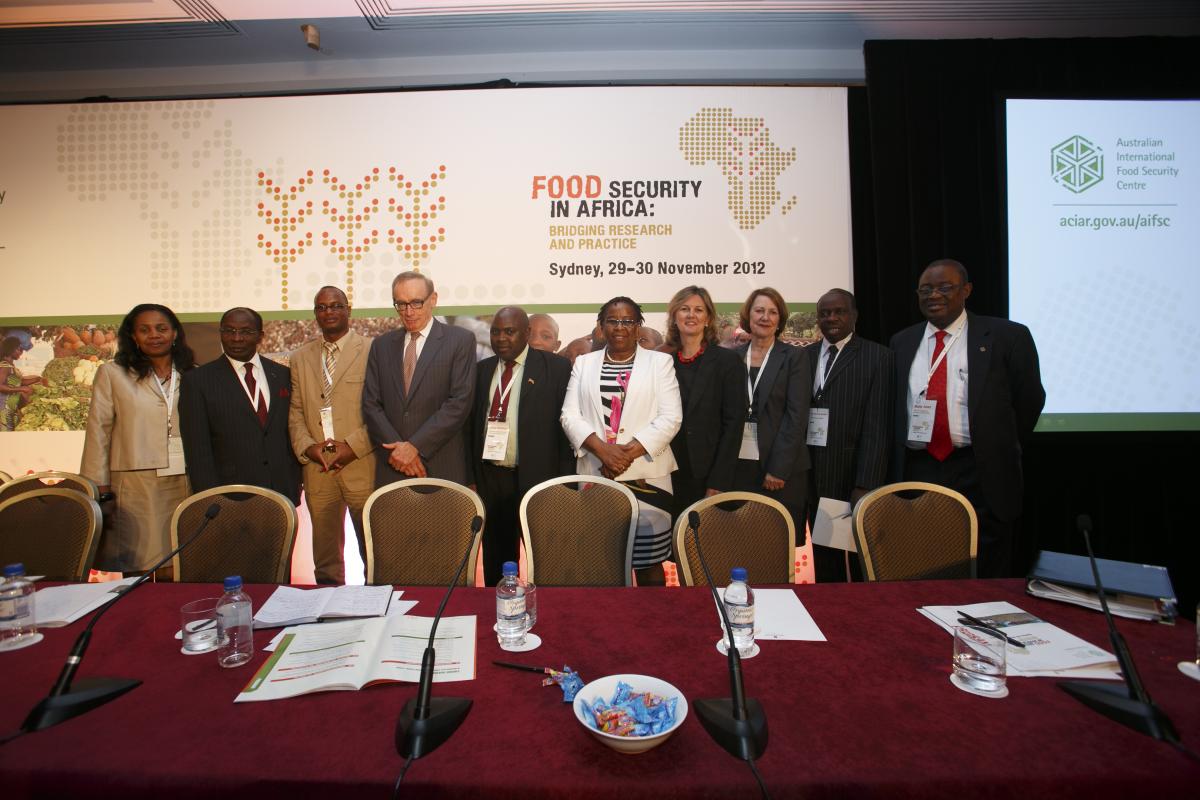 See photos from the Conference
On 29-30 November 2012 the AIFSC hosted an international conference Food Security in Africa: Bridging Research and Practice. The conference brought together a selection of notable high-level Africans, Australians and internationals from government, research and development, and private enterprise to:
launch the

AIFSC

strategy and acknowledge the range of national and international partnerships
enable discussion to inform the

AIFSC

strategy outcomes for improving food security across Africa
showcase Australia's expertise in research for development and policy development for improved global food security
showcase Australia's quality agriculture through a short social program.
The conference also featured side events hosted by CSIRO in Brisbane and the Australia Africa University Network (AAUN) in Sydney. See the full conference program for further details.
Thanks to the high level of engagement by all participants, the conference was a huge success with the four objectives effectively met. Considerable energy, goodwill and support for the AIFSC and its strategy were evident during the events. The AIFSC mission of accelerating adoption of technologies by smallholder farmers was roundly endorsed. Quality discussion on the program areas was provided and further opportunities for AIFSC investment and partnerships explored. The CSIRO-organised farm visit and the Australia Africa Universities Network (AAUN) research day were very well received by delegates and the agriculture field day in the Hunter Valley showcased an impressive range of farmer entrepreneurship and Australian agricultural produce.
The Conference was well attended by representatives from key pan-African, regional and national organisations including high level representatives from nearly all the AIFSC's 10 priority countries, as well as representatives from key donor partner and international research agencies. The AIFSC was formally launched by Foreign Minister Senator The Hon Bob Carr, while Her Excellency, Commissioner Tumusiime Rhoda Peace, the African Union Commissioner for Rural Economy and Agriculture provided a pre-recorded statement of welcome.
Opening statements were made by senior Africans, including by the Malawian Minister of Agriculture, Kenyan Parliamentary Agriculture Committee Chairman and four Ministerial delegates, representing the countries of Mozambique, Rwanda, Uganda and Zimbabwe. The Zimbabwean Ambassador to Australian read a statement from her Prime Minister.
The Keynote address was presented by Prof. Monty Jones (Executive Director FARA), who also provided closing remarks on behalf of his continental compatriots. The AIFSC strategy was formally introduced by Ms Mellissa Wood (Director AIFSC) and the rest of the program was structured around expert discussion on the AIFSC program areas, utilising panel sessions to explore key issues. Closing speakers included Dr Rob Bertram (Director USAID), Dr Jean Lebel (Vice-President, Canadian IDRC) and Dr Nick Austin (CEO ACIAR). See the launch program for more information, videos of the event and the speaker's presentations.
A highlight of the event was Minister Carr opening the conference, formally launching the AIFSC and announcing the $15 million Australia–Canada Research Program on Agriculture and Food Security. Read more about the Minister's announcement:
The event also received significant media coverage both in Australia and internationally - read more.

Related content: