The power of partnerships and collective thinking
Early October 2013 the project inception workshop for our new project 'Improving Income and Nutrition in Eastern and Southern Africa by enhancing Vegetable-based Farming and Food Systems in Peri-urban Corridors' was held in Arusha, Tanzania. The workshop brought together a diverse group of project partners from Tanzania, Malawi, Mozambique, Ethiopia and Australia. AIFSRC is funding this project for 5 years for AUD 2.6 million with co-investment of AUD 0.5million. Mellissa Wood, AIFSRC director was keen to stress that the project's success was the Centre's success and AIFSRC looks to building and working together with the partners to achieve this success. This project is led by the World Vegetable Centre (AVRDC) who will work together with African research and government organisations, Africare (an NGO headquartered in Washington DC, with offices in 23 countries in Sub-Saharan Africa), CIP (root and tuber research for development institute which is part of the Consultative Group on International Agricultural Research (CGIAR), Scientists from the National Agricultural Research Centres in the four SSA countries and Australian consultants. The project aims to develop vegetable production in peri-urban corridors in partner countries to address societal shifts due to rapidly changing demographics, increasing demand from urban consumer markets, and an urgent need for a more nutritious food supply.
The project director Dr Abdou Tenkouano opened the workshop and inspired the participants by outlining how this project will contribute to 'lifting people out of poverty by improving nutrition and increasing incomes'. Dr Tenkouano proposed that through focusing on nutrition, income and increasing social capital this project will address some of the key challenges that Africa is facing, including changing rural and urban labour markets, youth unemployment, malnutrition, and capacity. Ms Mellissa Wood, Director of AIFSRC highlighted this projects as an 'excellent example of agricultural interventions delivering on nutritional outcomes'.
By bringing the project partners together the inception workshop enabled participants to set up project operational structures and committees, develop work plans and milestones, and set up task forces to address cross country themes including production, post harvest and nutrition, and policy and capacity building. Most importantly the workshop enabled project partners to get to know each other, develop strong relationships and build communication networks that will set the project off to an excellent start. Linkages with other agricultural and nutrition projects were also identified including projects supported by the Food Security Centre. These include the Farm power and Conservation Agriculture for Sustainable Intensification (FACASI), and Increasing irrigation water productivity in Moz, Tz, Zim through on-farm monitoring, adaptive management and ag innovation platforms. There are also linkages with ACIAR's SIMLESA program. This project also has strong linkages with other AVRDC's Projects including: Hortilear, focussing on characterization of traditional vegetables and capacity building of PhD students, supported by the German BMBF program; and another project focussing on Horticultural innovations for learning and agricultural research. 'Developing linkages with related projects provides an opportunity for sharing knowledge and building the capacity of project participants' said Ms Mellissa Wood, Director of AIFSRC.
During the workshop project partners had the opportunity to share information and discuss similarities and differences across countries including: vegetable crop varieties and production practices; vegetable postharvest handling and utilisation practices; and opportunities for improving vegetable value chains through Best Practice Hubs (BPHs). One of the defining features of this project, the BPHs are designed to address knowledge gaps along the vegetable value chain and act as centres for crop trials and experimentation that also serve as educational centres. The aim of which is to draw young future producers into communities of practice, where they can learn, evaluate and adapt vegetable production and postharvest technologies, support diet diversification through improved crop varieties and develop effective value chain analysis skills to support income-generating activities and build strong market relationships.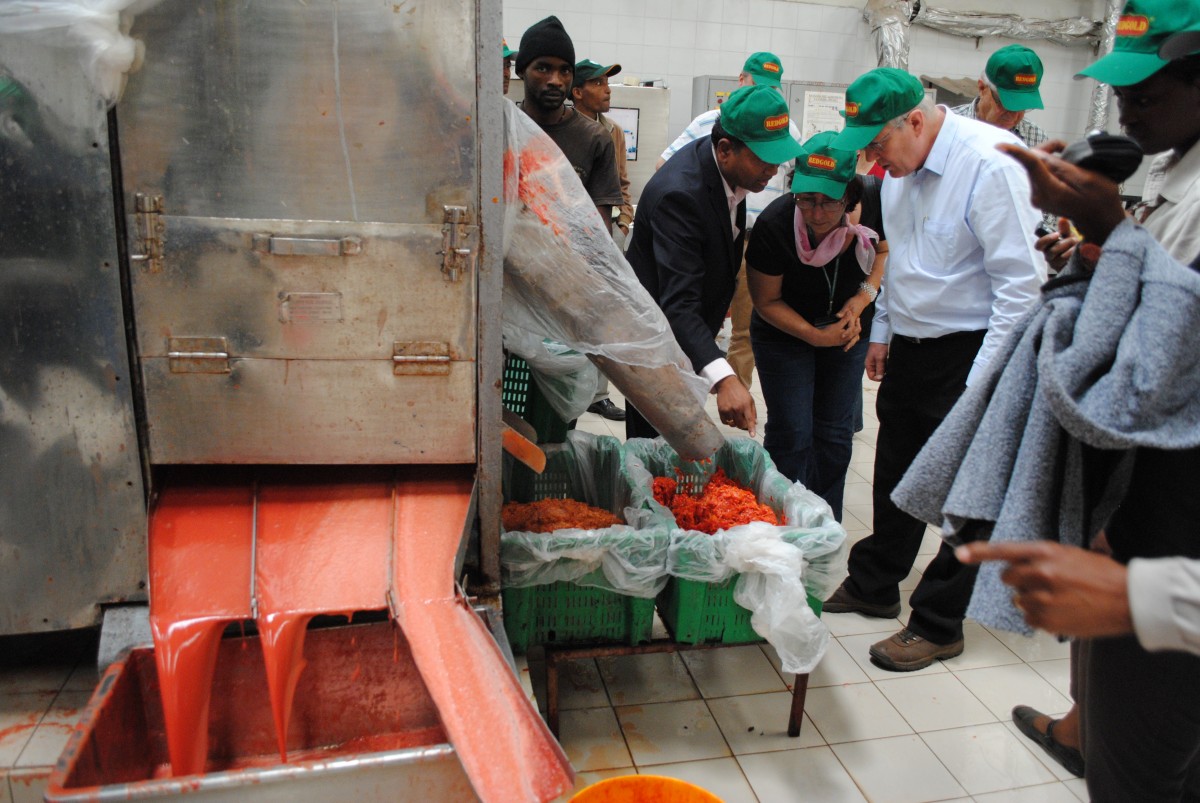 On the last day of the inception workshop participants had the opportunity to visit two relevant field sites around Arusha. The first visit was to Afrisem, a seed breeding organisation with the aim of providing local African vegetable growers with dedicated hybrid varieties and top quality seeds for an affordable price. Linking with Afrisem will be an important partnership for this project to provide quality seed for the production of quality vegetables. After this visit, participants went to a local processing industry 'Redgold'. This factory preserved tomatoes in tins and as sauces, and produced other products including chilli sauce and jams. Again learning from and linking with this organisation is valuable for this project. By promoting collaborative relationships with the private sector and industry this project hopes to foster improved technologies and practices for postharvest storage, value addition and processing.
The inception workshop was a success and the enthusiasm for the project was felt by all. Dr Les Baxter, the ACIAR Research Program Manager who is overseeing this project agrees this project has 'enormous potential due to the strong sense of commitment to the project from all partners'. We look forward to seeing new partnerships develop through this project which will bring together people from Tanzania, Malawi, Mozambique, Ethiopia and Australia to learn from each other and share knowledge for the benefit of the project and the local communities.
See photos from the workshop and site visits